Phoenix Perennials Mail Order offers an exciting selection of about 3000 of our most popular and interesting plants to gardeners across Canada each year out of our total selection of more than 5000 different plants for in-person shopping. If you're looking for a special plant that you don't see on our mail order site, let us know. We might have it and can add it to your order or create a special order.

Phoenix Perennials Does Mail Order Differently (plus other things you should know about shipping plants in Canada):
1. We ship big, strong plants usually in full growth mostly potted in 6cm (2.5 inch), 9cm (4 inch), 11cm (4.5 inch), 15cm (5.5 inch), and 1 gallon pots. These are the same sizes you would find at your local garden centre and on average much larger than plants shipped by other mail order nurseries. We grow most of these plants ourselves.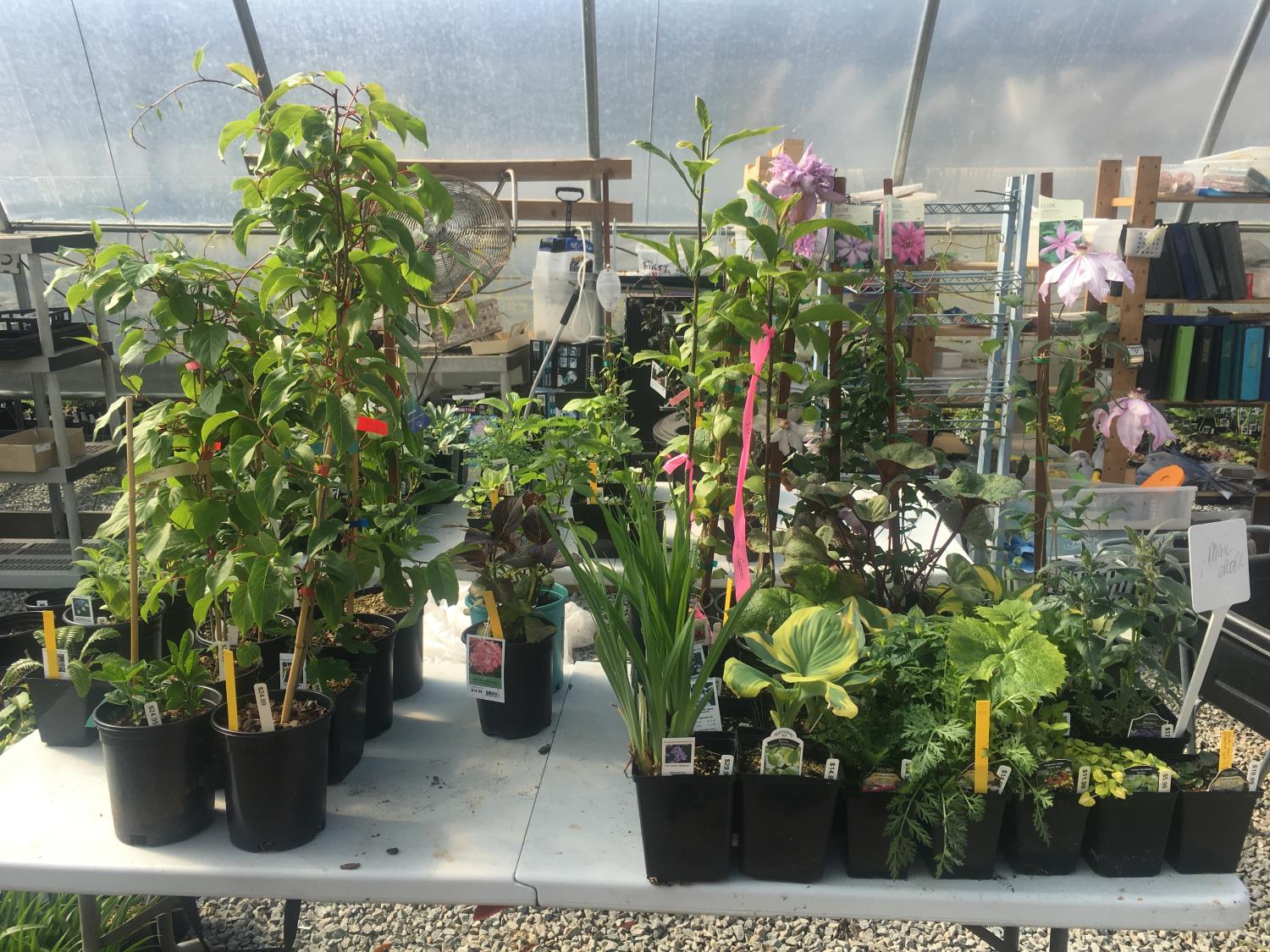 2. We do not ship small plugs or bareroot plants unless otherwise noted such as for Cypripedium, rare spring bulbs, or rare fall bulbs.
3. Our plants will not require any special care such as potting up and growing on before planting in the garden. Our plants are big and boisterous and ready to go and will result in very high rates of success.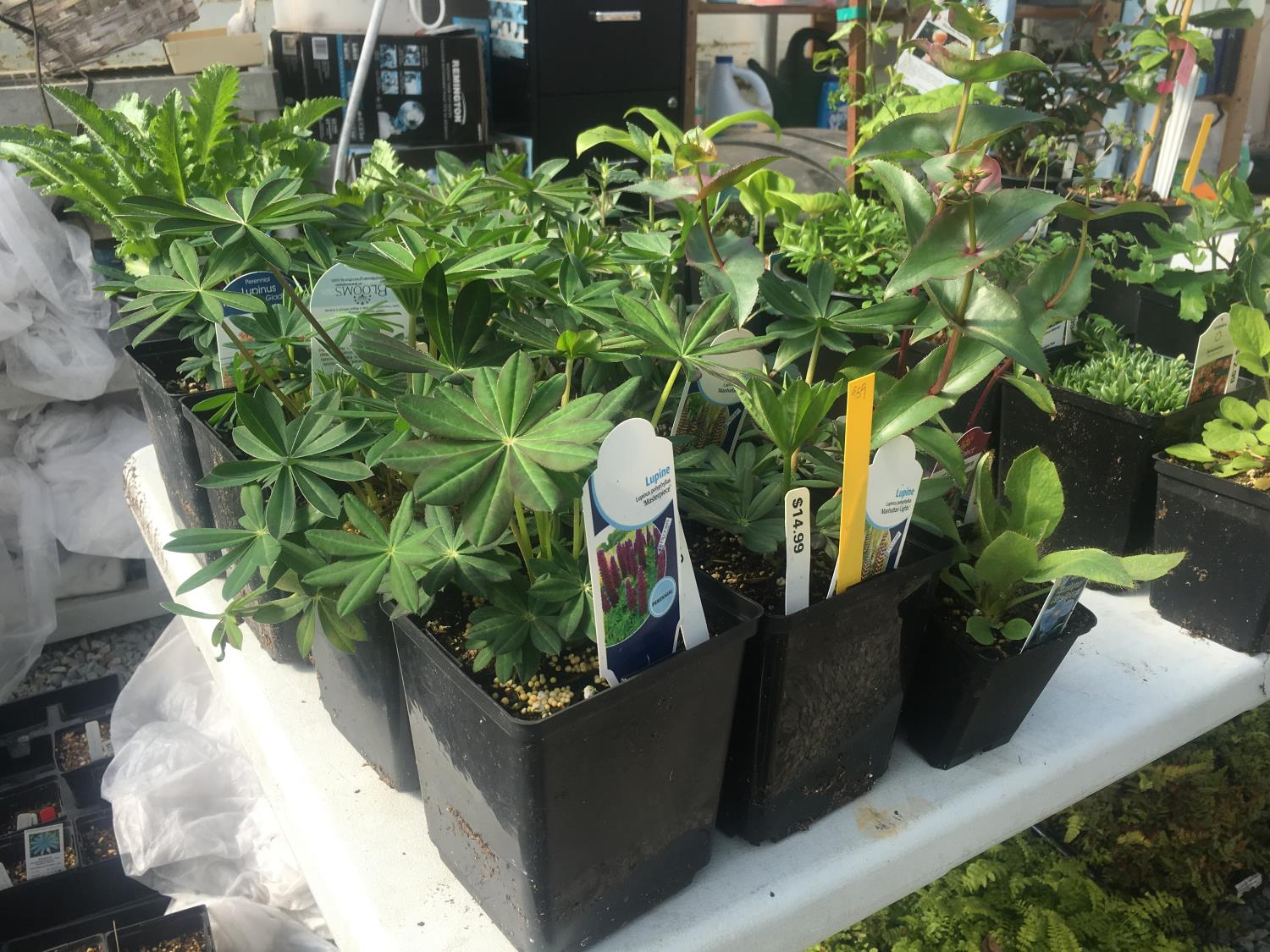 4. Shipping of our fully potted and full-sized plants will cost more than shipping the same plants in plug or bare root formats. It is a trade-off between small or unrooted plants that are cheap to ship but difficult to care for or large plants that cost a bit more to ship but grow easily and establish quickly. Our customers quickly realize the benefits of our strong, full size plants.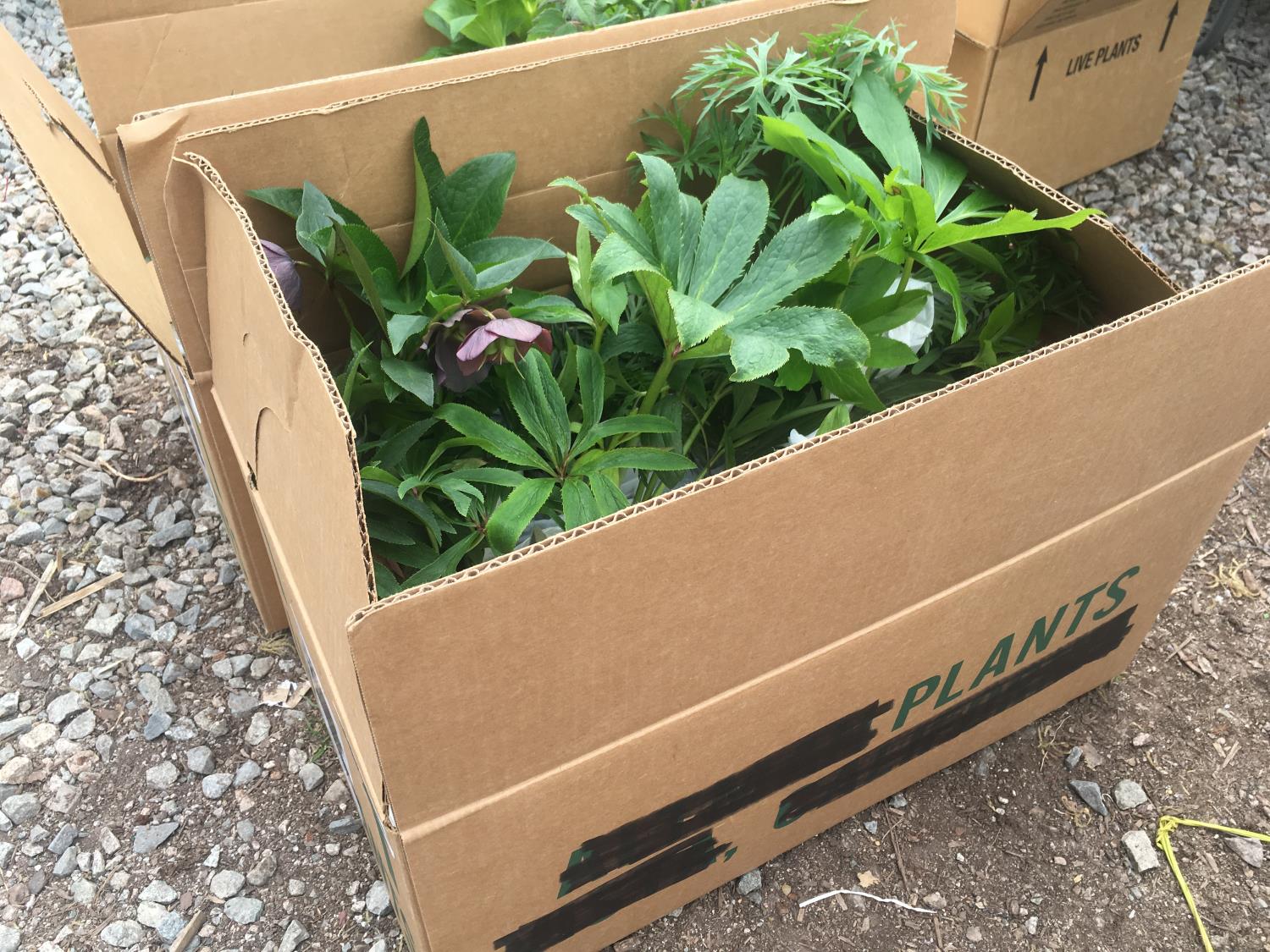 5. If you live in eastern Canada, shipping will cost more since we are in BC at a much greater distance to eastern gardeners than other mail order companies. Also, we ship most orders to the Atlantic in June since the plants must be big and strong to survive the longer shipping times.
6. Our Main Catalogue plants cost $2 more on our mail order site than they do at the nursery to cover the labour and administration costs of this service. After all, customers who visit the nursery in person do this work for themselves when they spend time shopping the nursery. For online orders, whether for shipping or pick-up, we must do this work on your behalf. Even for local customers who can shop in person, this service offers much value to help you secure a range of plants that might not all be available when you drop in to browse and the convenience of saving you a lot of time hunting for your desired plants. Pre-order plants, however, cost the same online as they do in the nursery.
7. On average every order we ship requires 30-60 minutes of administration and packing time. This is much more attention than an average on-site shopper requires. Our shipping costs, therefore, include the Canada Post or FedEx rate plus an amount to cover the time we spend administering your order, lovingly packing your plants, and shipping your box(es). We calculate this amount to cover the cost of our time without making a profit.
8. Our shopping cart system will calculate your shipping costs when you are ready to check out. You can view these shipping costs without checking out while you are shopping. It's important to understand how these shipping costs are calculated. There are base costs to ship a parcel, no matter the size or weight. If you order a single plant, the shipping per plant will be fairly expensive because the cost will include the flat fee base cost plus the weight of the plant. Each additional plant you add to your order will only increase your shipping cost by a few dollars. Most shipping costs range between $25-$60 for a 60cmx30cmx20cm box of plants depending on distance to your destination, weight, and volume.
9. Shipping across the vast distances of a country like Canada is not cheap. Nor is the cost of the time required to pack living plants. Small businesses like Phoenix Perennials are mere mortals compared with giant multinational online retailers with all their resources. That's why we need to charge the real shipping costs.
10. We are proud to offer a different kind of mail order plant experience to Canadians and to be making gardeners happy from coast to coast. We look forward to sending you some beautiful plants. Please read further for full details and discussion of our mail order service.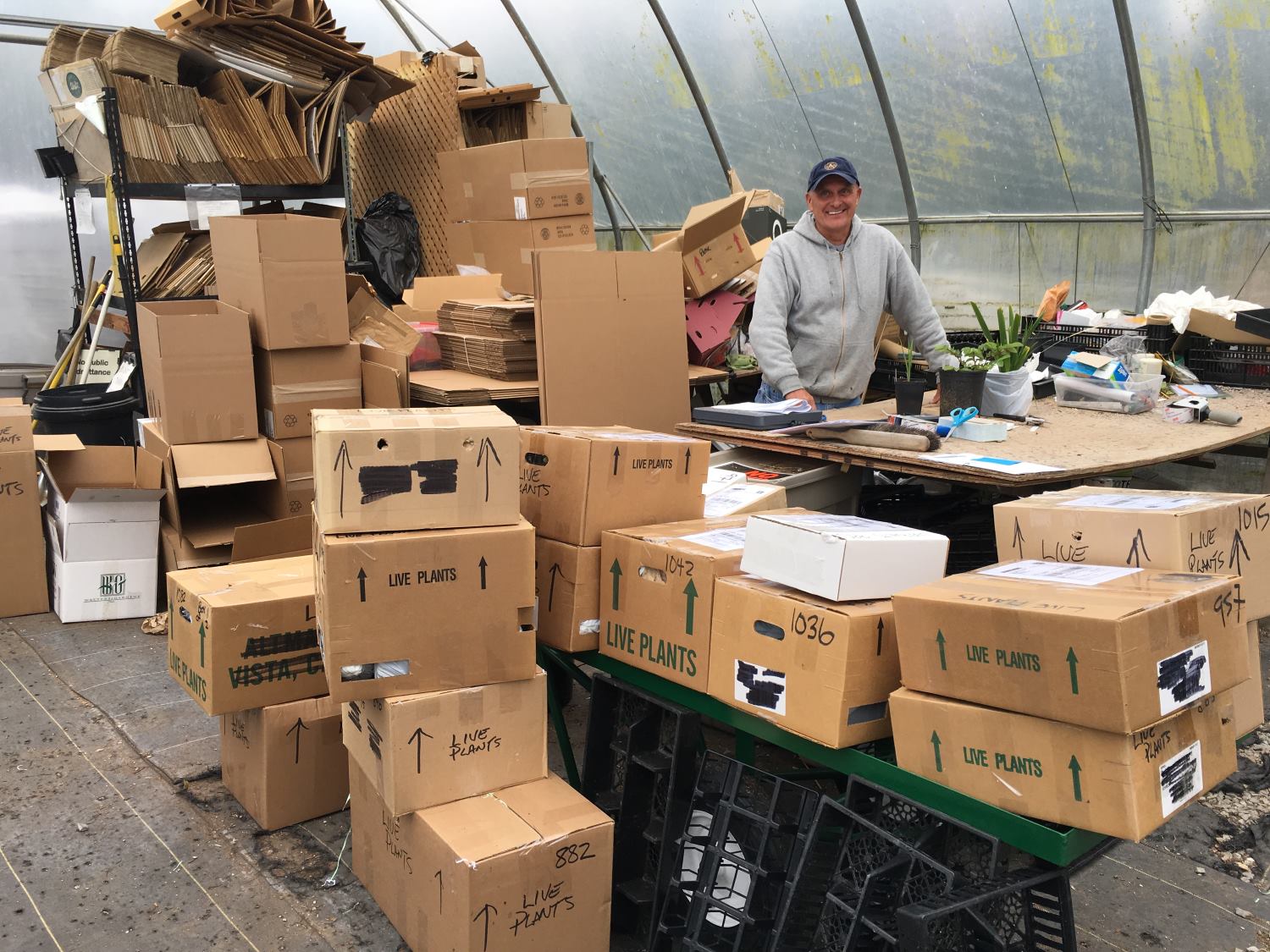 Ordering and Enquiries: We do not accept orders over the phone. Please order through our online shopping cart system and use email for enquiries and questions, unless they are of a time sensitive nature. Use the Contact Us tab or email us at mailorder at phoenixperennials.com. Our goal is to answer your email within 24-48 hours, though response time might be slower over the weekend or during the peak shipping seasons of May-June and September-October.
Minimum Order

: $40 (Before shipping & handling and taxes).
All prices are in Canadian dollars.


Payment

:
Our servers and payment gateway are managed for us by some of the largest names in online shopping and provide the highest levels of internet security for your personal information so you can shop with confidence.
We accept Visa and Visa Debit, Mastercard and Mastercard Debit, PayPal, and E-Transfer for mail order purchases. Your card or PayPal account are charged at the time of ordering. If you add plants to your order, we will ask for payment at that time. If plants are not available or shipping charges need to be adjusted, we will make the needed adjustments to your invoice at the time of shipping and either send you a refund or request additional payment, as the case may be.
Plant Availability
: We will make every effort to ensure that your full order is available for you. Please place your order early to secure your desired plants. Some plants may become unavailable as a result of crop failures due to weather, disease, or marauding insects or from shortages with our suppliers. In this case we attempt to prioritize plants for those who ordered first. We never make substitutions without asking you first.
Plants Sizes and Prices

:
Prices and sizes are subject to change under some circumstances. Pot sizes could move up or down by one size if we feel the plant would grow more successfully in a given year in a certain size. Generally this does not change the price. Sometimes we may need to repot into a much larger size that could have a corresponding price increase or slight increase in shipping costs. We will notify you first to discuss your options.
We offer a wide range of plants from normal tried and true cultivars to the extraordinarily rare. The price of each plant will reflect that. However, we do try to focus on more special plants for mail order. You can get normal plants at your local garden centre. We're here to offer you something special.
Substitutions and Back Orders
: We will make every effort to ship your order in its entirety to save on shipping costs. However, plants do not always grow at the rate you expect them to or even the rate they grew the previous year! Should a plant on your order not be available when the rest of your plants are ready for shipping, we will contact you and suggest possible substitutions, offer to remove it from your order, or offer to ship it at a later date. We will not make substitutions without your permission. Please be advised that if we ship at a later date this will increase your shipping costs because of the base price charged on each package by Canada Post and FedEx. Sometimes making two shipments is unavoidable as half of your order might be ready in April but the other half won't be ready until June. Also, sometimes larger orders would have to ship in two boxes anyway so we might split your order and ship at different times. With so many different plants and many thousands of different possible combinations, we must evaluate each order carefully. We will make every attempt to minimize your shipping costs.
Shipping Season
: Most of our orders from the Main Catalogue ship from mid May until the end of June and continue through summer and fall with a break in August. The plants in our Pre-Orders ship during specific periods listed on each pre-order. In general, we wait to ship until weather conditions in your area are favourable enough that plants will arrive safely. In some cases, this might be slightly before they can be planted outdoors in your area. We must try to time shipments to leave our mild growing area before they become too advanced so you might have to keep them protected for a few weeks before planting.
In most cases it is not possible to ship Main Catalogue plants and Pre-Order plants together due to the timing and readiness of the plants and packing logistics. However, we will ship together if possible. Please send us an email listing the order numbers of all your orders. We can put notes on you orders and will attempt to ship plants together if possible.
Our goal is to ship orders as soon as they are complete and the plants are strong enough to ship. Every week we evaluate every order and queue up those that are ready to ship. The rest are placed in holding pattern for evaluation the following week. If we haven't shipped to you yet, it is because plants in your order are not large enough and strong enough to ship. We encourage you to be patient in waiting for your shipment. If we are still within the dates of the main shipping season, please resist the urge to email us enquiring as to your ship date. While we wish we could respond to all enquiries with estimated shipping dates, the simple answer is that we can only ship when the plants tell us they are ready. Also, responding to such emails keeps us chained to the inbox and away from what you want us to be doing which is shipping plants.

If we have any questions about your order such as if certain plants are not available, we will contact you a few days in advance of shipping to get your instructions. To avoid our email going into your spam folder please enter our Phoenix Perennials Mail Order email address into your address book: mailorder@phoenixperennials.com. Please reply to us as soon as possible so your shipment is not held up. In order for plants to arrive in a timely fashion we must ship on certain days to certain regions. If we miss the shipping window for your region, we will have to push your shipment back to the following week.

At the time of shipping you will receive automated emails from our mail order and shipping systems notifying you of your shipment and giving you your tracking number.

If you are planning to be away for a period of time during the regular shipping season for your order, please let us know your away dates so we can ship only when you will be home to receive your new treasures.
Shipping and Handling

: Shipping costs are calculated at the time of check out using a live connection with Canada Post. At any time you can view your cart and calculate your current shipping costs. Your shipping costs will reflect the true cost of shipping your plants. The Canada Post portion includes two parts: a minimum base cost for your region plus a cost per kilogram. We also add a base cost and a small per plant charge to cover our costs of carefully selecting, packing and shipping your plants. For mail order we are your personal shoppers carrying out all of the steps that you would normally do if you were at our nursery in person. On average every order requires 30-60 minutes of administration, handling, and packing time. We must cover our costs of providing this service however we do not make a profit on shipping costs.

You may choose either Canada Post Expedited Parcel or the faster XpressPost Service. Generally plants arrive in a healthy condition up to and including 5 days in shipping. Expedited Parcel arrives within 2-5 business days for all destinations from BC to Manitoba, 4-5 business days for most locations in Ontario (sometimes with the exception of very small towns distant from large centres which may be 6 days), 5 days for Montreal and 6 days for the rest of Quebec, and up to 8 business days for destinations in the Atlantic Provinces. For New Brunswick, Nova Scotia, PEI, and Newfoundland and Labrador we recommend choosing XpressPost if you can afford it. Usually this costs about double to triple Expedited Parcel but your plants will arrive in about 3 days and they will be healthy and happy. If this is not an option, please be advised that most plants will survive shipping to the Atlantic provinces but they may need a little TLC after arrival. To help plants survive the shipping time to the Atlantic provinces, we do not ship until June when the plants are larger and stronger. Canada Post Expedited Parcel and XpressPost costs are usually the most cost effective options for shipping in Canada. However, w
e also use FedEx by comparing rates and shipping times against Canada Post at the time of shipping. If the rates are favourable and the shipping time the same or better, your parcel may be shipped with them.
To view your shipping costs you can click on "View Cart" at any time, input your location and calculate. (You can continue shopping after checking on your shipping costs.) In most cases there will be no changes to the price you are quoted and the amount you are charged for shipping and handling. There are a couple cases where there could be changes:
1. In the event that your plants are much cheaper to ship than your initial estimate we will decrease the cost of shipping accordingly. This would usually be a case where your plants weigh much less than expected.
2. Our shopping cart system isn't able to estimate when a second box is required for large orders. It assumes all orders will fit into one box. The variables of pot, plant, and box sizes are too complicated for a computer system to work out. In the event that you have placed a large order that must be shipped in more than one box, we may have to increase the cost of shipping. This is because Canada Post charges a base cost for every box and we must cover the extra costs of the extra box and the packing time. For these reasons, we reserve the right to charge the additional fee to cover our costs. We make no profit on shipping.
3. Some plants are ready at different times and must be shipped right away so orders can't always be shipped together. We will usually try to include this information in our ordering instructions and request that you place separate orders for certain groups of plants. Pre-orders for plants (like Citrus, Hellebores, Grafted Veggies, and Clematis), spring or summer bulbs, Cypripedium lady's slipper orchids, and perennials might all have to ship separately, for instance, due to the size of the plants, the packing requirements, the time of the year that they are available, and the considerations involved to make sure the plants arrive to you as healthy as possible at a time of year when you will be most successful planting them.
4. In some cases the live connection to Canada Post can fail and an erroneous shipping cost can be generated. If this occurs we will contact you to clarify and get your approval for the real cost of shipping.
We make every effort to constantly increase our efficiency and to keep shipping costs as low as possible. Our shipping and handling charges are calculated for cost recovery. They are not designed to make money. But we must cover the real costs of shipping and the time spent by our many Phoenicians to make mail order happen. Also, in most cases we are shipping potted plants in growth, not dormant bulbs or bare root. These plants require more space in boxes and more care in handling and packing. Your plants might cost a bit more to ship but they will often be bigger, easier to establish, and give you greater performance in your garden.
In the end, our philosophy is that it is way cheaper to pay fair shipping and handling costs than it is to travel to Vancouver to purchase plants in person! It's also way cheaper to buy large, healthy plants in the first place than small, bareroot, or precarious ones that might fail and need to be replaced. We're sure that once you receive your plants and plant them in your garden you will understand the "Phoenix Perennials difference".
Guarantee: Our guarantee is based on the premise of mutual responsibility for the living things that we are selling and that you are buying.


We guarantee our plants to be true to name, healthy and ready to grow when they arrive on your doorstep. We guarantee against all factors within our control.


We do not guarantee our plants against factors out of our control such as adverse weather or soil conditions, under or over watering, bouts of zonal denial where plants are planted outside their hardiness zones, winter, marauding and hungry garden creatures, inadequate care on the part of the gardener or buyer's remorse. It is the responsibility of each of our customers to research their new plants and to ask us if they have any questions about cultural requirements.


While we strive to pack your plants as carefully as possible, every leaf might not arrive in perfect condition. After all, these plants have been packed in a box and transported hundreds or even thousands of kilometres. Damaged foliage does not qualify for replacement or credit. You are buying healthy root systems and stems that will flush out into beautiful plants once they are unpacked and planted. That being said, we have gotten good feedback that our plants almost always arrive in great condition. Also, please note that at Phoenix Perennials we use as little fungicides and pesticides as possible which includes not using neonicotinoids. Occasionally, a few aphids happen or a little slug might have stowed away in a pot. We hope you will appreciate our growing methods and be tolerant if there is a stowaway. If you have any concerns, please contact us right away. Usually, we would not consider a minor issue to be grounds for replacement or credit but we would, of course, work with you if there are any more serious concerns.


If you have any questions or concerns about your shipment, you must email us within 72 hours of receipt of your plants. Please include a few digital photos illustrating your concern. Digital photos will help us to diagnose the problem and devise an effective solution. If you do not contact us within 72 hours then a problem that could have been corrected becomes one that is beyond our control and responsibility. However, if you encounter problems beyond this period that could be related to a cultural factor originating at our nursery, we will guarantee against such problems. Please contact us. We want you to be successful and happy with your plants. In evaluating an issue, our main consideration is whether the plant has experienced long term damage from which the plant will not recover or take a long time to recover from or if the damage is only short term or cosmetic and the plant will grow for you in the future into a healthy successful plant. In some cases damaged foliage or stems might be inconsequential as we know that the plant will quickly reflush new growth from the roots. In other cases the issue might be more serious and affect the plant in the longer term.

We cannot be held liable for any amount greater than the purchase price of the plant in question. Should there be a problem that is our responsibility and that cannot be rectified through cultural advice, our policy is to offer a refund or a credit towards a future purchase equal to the purchase price of the plant plus tax, depending on the particular situation. We do not refund the cost of shipping of that plant just as we do not reimburse a customer for their time and gas money if they need to return to the nursery with an ailing plant. That being said, our plants are extremely healthy and we rarely have problems related to plant health. You can order with confidence that we will only ship the healthiest plants and if there is a problem we will deal with it fairly.


Returns
: We do not accept returns of mail ordered plants since shipping costs can quickly escalate and exceed the cost of the plant in question. Please review our Guarantee section for more information if you have a concern about one of your plants.
Pick-Up at the Nursery
:
To help us better serve you and manage the various needs of our different customers, please identify which type of customer you are and our recommendations for how to best use our services.


Local: Local customers are those that can easily visit in person and tend to do so multiple times a year. You are welcome to place online orders for our various Pre-Orders. You are also welcome to place orders from our Main Catalogue for pick-up. However, it is important to understand how this service works. We do not necessarily pull orders right away for immediate pick-up like a grocery store. Orders are assembled in weekly or bi-weekly cycles. Also, orders are only assembled when they are complete so some plants might be ready (and sitting on display in the nursery) while others are still growing and are not ready yet. We recommend placing multiple orders for discrete groups of plants from the Main Catalogue. For instance, if you might want some lupins, Echinacea, and succulents you could place three separate orders for each group and we would contact you in early May for lupins, late May for Echinacea, and June for succulents. If you placed one order for all of these different groups, we wouldn't assemble your order until June when the succulents were finally ready. You would just need to meet the minimum of $40 per order. If your order is more varied than this it is perfectly fine to place one mixed order. Another option is to email us and let us know the plants you want. We can add you to the Wish List and let you know when they are ready. Then you can come in and shop for them.
Regional: Regional customers are those that might be able to visit the nursery once a year or a couple times a year often planning the timing of their trips to pick-up pre-orders or orders placed in our mail order system. We encourage you to place pre-orders and mail orders and to visit in person to pick-up when we notify you that your orders are ready. You can also take advantage of our courier, freight, and mail order shipping options if this is more convenient for you at the time.
Shipping Only: Shipping only customers are those that live too far away to visit the nursery. This might also include customers within Metro Vancouver with transportation or mobility issues who require shipping. Please feel free to place pre-orders and orders in our mail order system. We will send your plants using the method (courier, freight, Canada Post) that is cheapest and/or best for the plants.
Special Offers

: Because we are also a regular retail nursery open seven days a week for on-site sales we might be offering coupons, special offers, loyalty cards, vouchers, and sales for on-site purchases at the nursery and in local and regional media throughout the season. By default, all special offers, sales, loyalty cards, vouchers and coupons do not apply to mail order unless otherwise stated. We make these restrictions because the economics of a bricks and mortar store are different than those of a mail order store.
Additions
: We love it when you want to add plants to your orders! We are crazy about plants too. In order to best serve you and to make sure we get your order correct for additions where the total plant value is under $40, please email us with your additions and we will add them manually to your order and contact you with the new invoice amount for additional payment. If the value is over $40, please place a new order in our system then email us with a list of your various order numbers. We will make a note of your various orders and ship them together if possible. If there are savings on shipping costs by combining your orders and reducing the number of boxes needed, we will refund this amount at the time of shipping.
Cancellation Policy
:
All cancellations must be done by email. We cannot accept cancellations over the phone.
For Main Catalogue orders, you may cancel your order in part or in full up until your order enters our assembly and shipping process which usually begins 1-3 weeks before we ship your plants. Should your order already be in process we can give you a refund minus a 25% restocking fee based on the value of plants in your order or a 100% credit on your account for the full amount of your invoice including plants, shipping and taxes. Substituting one plant for another is not considered a cancellation. For cancellations related to Pre-Orders, please refer to the specific details described at the top of each pre-order page.